100 Sec Video Challenge

Next Generation of Mobile Apps are here & you Don't Need any Complicated Softwares or expensive Developers to Create them.

In fact, you can easily convert your current responsive website into an Android & iOS App in a few Clicks! And the best part, you don't need any Google Play or Apple's App Store Approval. Your Website Visitors on their Mobile devices will be automatically asked to Install the "App" version of your Website.
And the best Part! You can even send them Push Notification Messages and Start Growing your Push Messages List and Drive Massive Traffic on your website/eCom Stores or Affiliate Offers.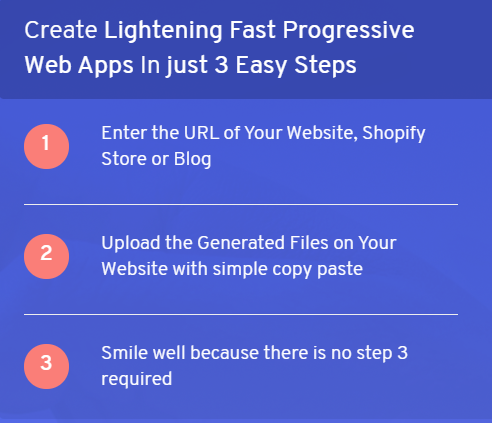 This New Technology of Apps is Called as Progressive Apps! Now you have the power to convert those websites into Android/iOS Apps which would have been rejected by the App Stores Otherwise.

It Doesn't Matter if you have a 1 Page Website or a 1000 Page Blog if you are selling eBooks or Just Promoting Affiliate Offers or even if you just have a 1 Page Offline Business Website.
It will work for everyone!